About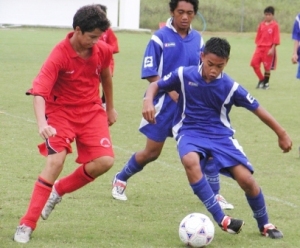 Local Time Rarotonga
Invitation
Kia Orana,
Within the global football family are many friends, these alliances are forged over a long period of time. But they all start with a first contact, then a visit. These football opportunities to visit and exchange ideas and make new friends, build enduring relationships between players and teams alike, as football often does.
The Cook Islands Football Association is the governing body of football( soccer) in the Cook Islands, it extends this exciting football invitation to all teams who wish to travel to arguably one of the best holiday destinations in the South Pacific to play football.
We would like to open our home of football to welcome existing and new football friends and family as part of the international football family. Contained on our website here are details of the tournament and how to enter. We look forward to seeing you here on Rarotonga.
Should you have any queries please do not hesitate to contact us.

Kia Manuia,
Alex Napa
Event Co-Ordinator
Age Group Category
For its inaugural start in 2008 CIFA will only accept 16 teams in the following age group category;
U17 Girls - 8 Teams ( Born 1991 or after*)

U16 Boys - 8 Teams (Born 1992 or after*)
·
The Cook Islands will enter 2 Boys & 2 Girls teams for local representation
who will go into two Pools of 4 teams for both Girls & Boys. i.e.
Pool A Girls:

Cook Is Girls A, International Girls 1, International Girls 2, International Girls 3

Pool B Girls:

Cook Is Girls B, International Girls 4, International Girls 5, International Girls 6

Pool A Boys:

Cook Is Boys A, International Boys 1, International Boys 2, International Boys 3

Pool B Boys:

Cook Is Boys B, International Boys 4, International Boys 5, International Boys 6
* The DOB guide line is taken to 1st January 2008.
Dates
The planned dates for the tournament are;
Sat 5th - Sat 12th July 2008
Teams may arrive a few days prior to kick-off on Sat afternoon
.
The tournament is planned to take place over a 8-day period with one or two days allowed for at the beginning or at the end for travel and acclimatisation.
Program
Friday - Welcome Opening Ceremony - afternoon, & Technical Meeting for all team Management

Sat - Opening Pool Games afternoon

Sun - Rest Day/ Cultural Activities

Monday - 2nd Pool Game

Tuesday - 3rd Pool Game

Wednesday - Rest Day & Technical Meeting/ Cultural Activities

Thursday - Semi Finals

Friday - 5th, 6th, 7th & 8th Placing Games & Rest day for Finalists

Sat - Third Placing & Finals, followed by Awards Ceremony & Teams Farewell BBQ
Venue
All the games will be played at the CIFA Academy, on two fields, Matavera, home of Football in the Cook Islands on the main island of Rarotonga.
Format
The teams will be in two pools of 4 in each category, and will play Round Robin games in the first three days.

The top two teams will play off in the semi-finals to determine the Winner and Runners Up.

The two losing teams in the Semi-Final Play-Off

will play for 3rd placing.

The 3rd and 4th placed teams in the Pool Play will play off for 5th, 6th, 7th and 8th placing respectively, so all teams will get lesser than four games.
Awards
Winners

- Gold Medals

Runners Up

- Silver Medal

Third

- Bronze

Fair Play -

Team Award

Golden Boots-

Top Goal Scorer (Boys)

Golden Boots

- Top Goal Scorer (Girls)

Silver Boots -

2nd top Goal Scorer (Boys)

Silver Boots

- 2nd top Goal Scorer (Girls)
Team Social Function

At the end of the tournament all teams will be hosted to a farewell function where there will be exchange of gifts, and a chance for the players to relax and mingle.