News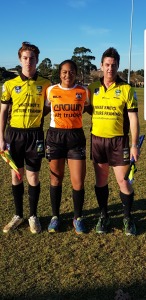 VRLRA had Rochelle Tamarua over on a referee exchange visit from New Zealand.
Here is a write up from Rochelle.
Visit to Victoria
I would like to thank you all for organizing the exchange to Melbourne over the weekend. It was an experiance I thoroughly enjoyed and would love to come back another time.
VRLRA, your hospitality won't go unnoticed. Travels to the grounds and airport and not to forget the accomodation I stayed at was absolutely stunning!
3 games were tough! Not use to that back in NZ, no shame in saying that fatigue started to kick in after the first half of the A grade game. It was awesome to have received coaching as well. Good to get someone different that also has a lot of experience in refereeing to share his knowledge and advice when it was needed. Thank You!
My involvement in NZ currently.
I referee Sharman/Fox reserves.
I'm slowly working towards getting my foot back into the interntional stage. I was very privileged to represent NZ on an international scale for the past couple of years. Involvement with NRL nines, refereed a few Kiwis and Jillaroos matches including the Anzac tests. Travelled to Sydney and Brisbane for development training with the NRL. Privileged to have been involved running lines for the Holden Cup. To add to this list, I am the first female referee in NZ to adjudicate at Fox Cup level.
I'd like to think my achievements thus far have opened doors and opportunities to our youth and women here in NZ. I will continue to strive and be the best that I can be. However my journey wouldn't have been possible without the ongoing support from mentors, family and friends.
Rochelle Tamarua
Photo: Kyle Grady, Rochelle Tamarua and Scott Grady before 1st Grade match.