News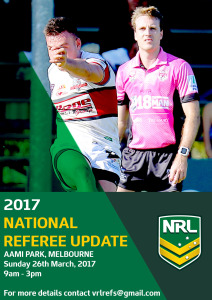 The 2017 NRL Referee Update is coming to Melbourne!!
This conference is an essential update for all referees and to maintain your refereeing accreditation needs to be completed.
This conference is provided FREE OF CHARGE.
The conference will cover:
New Rules and Laws for the 2017 Season
Updated Interpretations on the Laws of the Game
Practical Scenarios that will help you with your refereeing
The National Referee Methodolgy
And many more topics…
To Register for this important update click on the link below
http://education-nrl. sportingpulse.com/Entry/?EID= 7628
---
Do you want to become a Referee?
Would you like some extra pocket money?
Do you spend most of your Saturday at games?
With the 2017 season fast approaching, there is no better time to sign up and do your referees course!!
It will put you in the best seat in the house for the greatest game of all, while keeping you fit and letting you meet some amazing people.
See the Play NRL link below for more information.
http://www.playrugbyleague.com.au/get-involved/referee/become-a-referee/
---
Last Updated: Saturday, March 18th 2017